Happy holidays!!!
How are you keeping the festive holiday spirit alive in the office? It can be tricky sometimes to decorate with a limited space or a limited wallet.
Here are some of the office ideas we have done here around our Porter's Office Products work station!
Our furniture specialists pop onto the retail floor several times a day. They decided to hang some garland up with some fairy lights intermixed for some holiday glow!

What brings the holiday spirit better than a fully decorated Christmas tree? We have loved having this tree in on our retail floor so that everyone always see it. We even stored our employee Secret Santa gifts for one another underneath it for the time before our party!

A great and inexpensive way to decorate is hanging Christmas ornaments around the office. We hung them from the shelves on the retail floor. It glistened the place up a great deal.

Something else we enjoyed doing this holiday season was displaying our holiday cards we received from fellow business friends on our warehouse door.

Of course, we couldn't do any of this without the Blue Cow stamp of approval! Our little buddy has certainly enjoyed the holiday season thus far!!

There are also many ideas we have seen that we love to share as well!
One of our absolute favorites is this rendition of Elf on a Shelf! They created Elf bodies out of construction paper and attached their own photos on as well! They move them all around the office and have them act out hilarious winter scenarios. Great idea coming from Seema Adnani
Another great and simple one is turning your door into a present! We love this idea coming from Nap Time Decorator. It will make anyone feel the holiday spirit as they walk into your "presents"!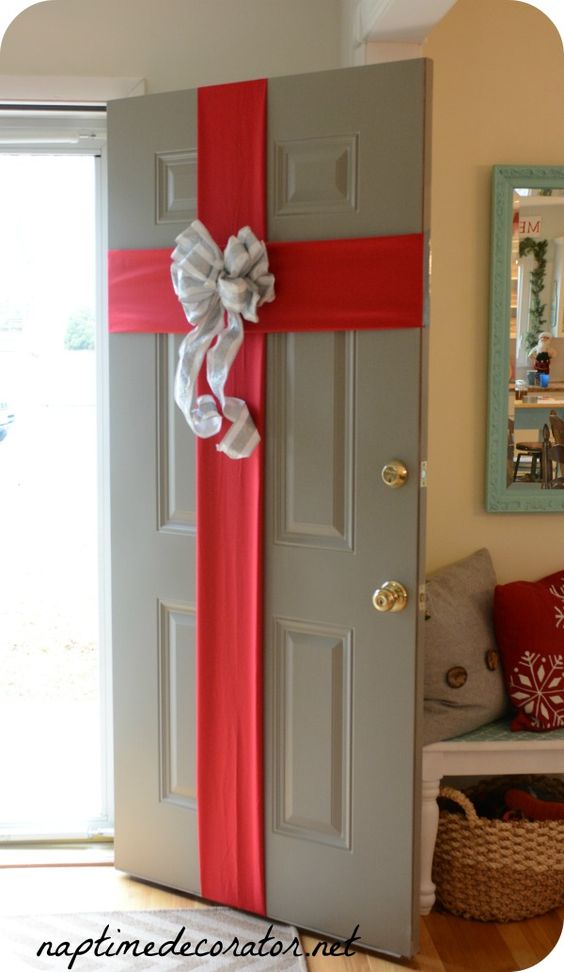 There are so many fun ideas and decorations you can use in your office space. Let us know if you have another idea or something you have already tried!