We're talking about your Emergency Binder! October is fire Prevention Month and that means time to brush up on your safety tips as well as prepare for anything that could happen.  Your binder needs to contain every important piece of valuable information or anything you would need in case you aren't able to run home right away.
Avery
has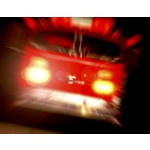 come to the rescue and provided some tips on getting prepared.
Decide what you need
Start by gathering all the essentials you'll want inside your emergency binder. Not sure what to include? Here are some key things to consider:
– Cash—Place a stockpile of cash inside an Avery Secure Top Sheet Protectoror secure plastic pouch to cover any necessities you may need to purchase. Cash always comes in handy when credit cards aren't accepted, or if ATMs aren't working or are depleted of cash.
– Documents—Birth certificates, marriage certificates, Social Security cards, car titles and other important documents should again, be sealed up safe inside an Avery Secure Top Sheet Protector.

– Medication—Keep a list of existing medication, prescriptions and an emergency supply of other health needs for you and the whole family in a waterproof storage bag and attach it to your binder.
– Photos—Keep duplicates of old and treasured photos of your ancestors and other precious family photos in Avery Photo Pages, in case you don't have time to grab your photo albums.
– Computer files—Save a backup of important documents or personal digital memories from your computer onto a CD or DVD for safekeeping. Use Avery CD Pagesto hold your CDs and DVDs.
– Contacts—Make sure you have your important contacts safe and secure in an Avery Business Card Pages.

Put together your binder
After you've collected your "must have" items, your next step is to find the binder that best fits everything you'll want to take with you. Consider choosing a binder that's brightly colored, so it's easy to spot when you need to grab it quickly. It also needs to be portable, so keep the size of your binder in mind. And of course, you'll want a binder that's durable so your information is kept safe and protected. You'll find plenty of choices in Avery Heavy-Duty Binders, available in a wide range of holding capacities and colors.
The more organized your emergency binder, the easier it is to find what you need. With Avery Durable Ready Index Dividers, you'll have no problem accessing your key documents in a flash—whether it's your insurance policy, your medical provider or even your emergency contacts. Plus, the dividers are reinforced in three ways so they're stronger and designed to last longer. Customize your table of contents with free Avery Templates. Just enter your titles and print right from your own desktop.
Keep it updated
Once you've put together your family's emergency binder, periodically review the contents and make sure the information inside is current. You might also want to make a spare copy duplicating as many items as you can, and keeping it in a separate location such as in your car or with a trusted relative or friend who lives outside your area. And as a final precaution, keep your binder sealed inside a water-tight, Ziploc® plastic bag to protect it from the elements. You never know when you'll need it, but having an emergency binder is one way you can be ready to handle tough situations, should they come your way.
Don't forget to shop for all your Emergency Binder necessities at
www.portersop.com
and be on the look out for our Blue Cow E-Blast next week for more fire safety tips! If you aren't receiving our emails click
here
to let us know! We'll make sure to get you in on our tips, new products, and discounts every other week!