Storage solutions for your business can range from a few storage boxes to an entire drawer system. Start here to determine to right storage solution for you.
Drawers Or Boxes?
If you have limited storage space and require frequent access to files, Bankers Box® storage drawers would be the best choice. If you have a lot more storage space available and need to access your files less often, storage boxes are the best solution.
When you choose drawer storage…
You can stack records higher and save space.
You can eliminate the need to stack and restack boxes
You cut record retrieval time in half
When you choose box storage…
You can move and handle records more frequently with stronger boxes
You can store less frequently accessed records safely with safe closures
When you choose a drawer/box combo…
You can store active files in easy to access drawers
You can store inactive files in safely sealed boxes for long-term storage
Choosing the Right Storage Drawers
If space-saving is your primary concern, than drawers provide the best storage solution. Choosing the right type of drawer determines how high you can stack your drawers to save space, and the right size determines the size of the contents of the drawer.
Drawer Types
Maximum Space-Saving Drawers stack up to 10 drawers high.
Extra Space-Saving Drawers stack up to 7 drawers high.
Basic Space-Saving Drawers stack up to 2 drawers high.
Drawer Size
Letter/Legal Drawers accommodate both letter and legal size documents – This size drawer has the versatility for storing records of varied sizes.
Letter size drawers accommodate letter size files. This is the perfect drawer if letter size documents are all you need to store.
Legal size drawers accommodate legal sized files offering an additional three inches in width for larger record size.
Whatever your drawer choice, with the stacking ability of drawers, you can maximize your record storage space, save on retrieval time and eliminate box restacking—all while maintaining easy access to all your important records.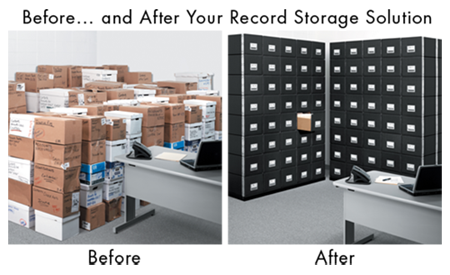 Selecting the Right Box
Different boxes have different purposes. Knowing which Bankers Box storage box to select, requires understanding your storage needs from type and strength, to size and assembly.
Box Types
String & Button boxes offer maximum security and reliable closure, even when the box is overturned.
Lift-off Lid boxes allow easy access to records. Look for locking lids to securely store your files.
Attached Flip-Top Lid Boxes prevent lost or damaged lids.
Specialty Boxes provide specialized storage solutions for unique document sizes
Box Strength
Frequent access, heavy-duty boxes hold up under heavy use and can be stacked higher.
Occasional access, medium-duty boxes hold up under moderate use and moderate stacking.
Infrequent access, basic-duty boxes are suitable for basic use and lower stacking.
Box Size
Letter/legal boxes easily carry and accommodate both letter and legal size paper.
Letter size boxes are perfect for high capacity letter size paper storage.
Legal size boxes are 3" wider than letter boxes and accommodate legal document storage.
Box Assembly
Presto™ instant assembly – sets up to 5 times faster than basic assembly boxes
FastFold® quick and easy assembly – sets up to 4 times faster than basic assembly boxes