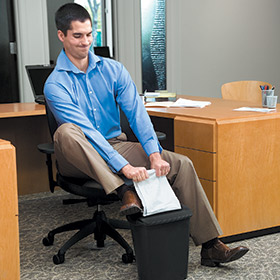 Paper jams are the most common frustration when it comes to shredding. When a jam occurs, it is usually due to overfeeding, mis-feeding or fast feeding paper into the shredder. By being aware of these common shredding mistakes, along with having a shredder with the right jam prevention technology , you can keep your shredding experience hassle-free.
Overfeeds
When too much paper is fed into a shredder at one time, this can cause a paper jam. Knowing the sheet capacity (or how many sheets your machine can handle) can help prevent jamming. Also, you can help eliminate overfeeds by having a shredder equipped with a jam prevention system that can electronically sense when too much paper has been inserted into the machine.
---
Mis-feeds
Inserting paper that is folded, creased or wrinkled can also cause a misfeed paper jam. A shredder with advanced jam prevention can power through mis-feeds or cleanly reverse out the paper so that it can be removed – both eliminating this cause of a paper jam.
---
Fast Feeds
Fast feeds are caused when a stack of paper is fed into the machine before the shredder has finished shredding the previous stack. Shredders equipped with an advanced jam prevention technology that can detect fast feeds will pause the shredder, allowing you to remove the excess paper before it turns into a paper jam.